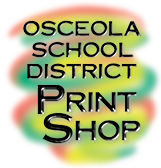 We are a division of the Media & Instructional Technology Department (MITD). The information on these pages is intended for School District personnel.

The Print Shop provides printing and copying services to District schools and departments. Our goal is to support the schools and departments with the printing services they need, as efficiently as possible.

Our hours are 8:00am through 4:30pm, Monday through Friday. Our equipment is shut down for the day at around 4:10pm. Summer hours may vary.

Orders are received through our online ordering system, Print Shop Pro. Please view the short video tutorials on the Print Shop Pro Instructions page before using it.

Print Shop Pro went live on 11/23/15.
As of 3/24/21 we have 460 registered users from 109 schools, departments and organizations, and have processed 18,049 orders.

For more information stop by the Print Shop or contact Penny Mol at extension 67215, email penny.mol@osceolaschools.net

Please explore the links to the left to learn more about us.

---

IMPORTANT

Copyright Reminder

When submitting orders that include copies from books and documents from the internet, you must include permission to reprint each time you order. A copy of a page from the document stating that you have permission to copy or a letter from the Copyright holder are acceptable permission. If you do not include the permission your order will be delayed or canceled.

Paper Selectors
The Paper Selectors (swatch books) were updated in March, 2016. They were sent to schools and departments at that time. If you need more, order on Print Shop Pro under the Forms & Store category, or contact the Print Shop.

About this web page:
The Print Shop web pages are produced using Mac computers running OSX. Software used includes Photoshop, Illustrator, InDesign, Acrobat, GraphicConverter, Safari, Internet Explorer, Microsoft Remote Desktop, iMovie and Excel. If you would like to provide feedback concerning these pages, please email me at penny.mol@osceolaschools.net.