Return to Headlines
Choice Fair
By: Abby Jacobacci, Community Relations Specialist
The Osceola County School District will once again be hosting its annual Choice Fair on Thursday, November 16thfrom 5:00 p.m. to 7:30 p.m. at Osceola Heritage Park. Parents and students will have the opportunity to have personalized conversations with school administrators and students, learn about the different pathways and career clusters, participate in hands-on activities at each school booth and at interactive tables, and enjoy student performances and art exhibits. The application window opens at the Choice Fair at 5:00 p.m. so families will be able to apply to their school of choice at the fair! A computer lab will be set up on-site to help with the application process.
If you plan on attending, we encourage you to visit www.myosceolachoice.school before you arrive. This website will let you take a quiz to find schools that match your interests and can help make your decision on schools to visit at the fair.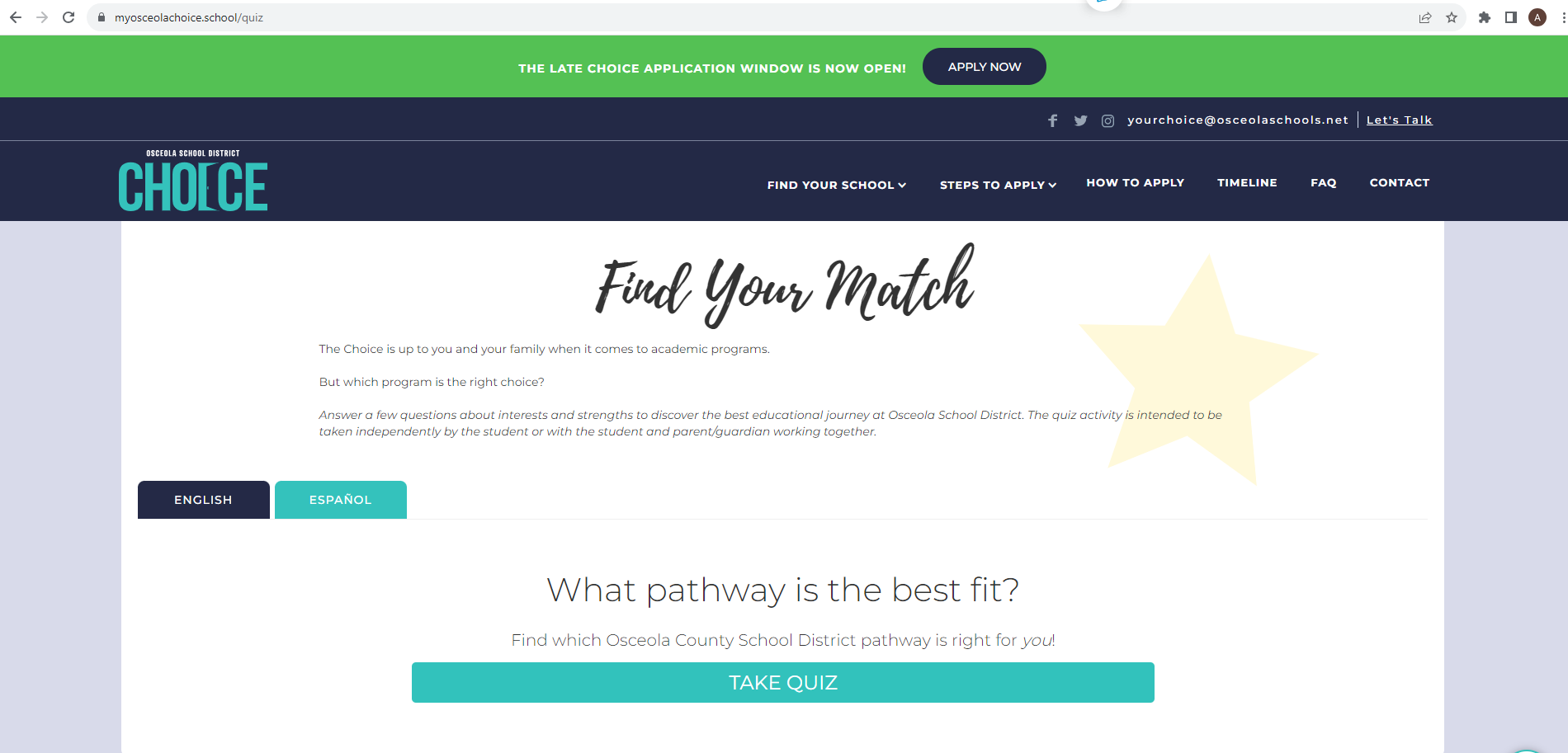 This all-encompassing site will be your one-stop-shop for everything Choice related. You will be able to read about the offerings of each of our schools, view a frequently asked questions page, and once the window is open, you can apply directly on this site.
If you have a student who is thinking of applying for Choice, there are a few key dates to keep in mind:
Choice application period – November 16, 2023 through January 26, 2024
Choice notification letters sent out – February 15, 2024
Accept or decline the Choice seat – March 1, 2024
Additional information can be found on www.osceolaschools.net/choice. If you have any questions, you can email the department at yourchoice@osceolaschools.net or call 407-870-4847.
El Distrito Escolar del Condado Osceola organizará una vez más su Feria Anual de Selección Educativa el jueves, 16 de noviembre de 5:00 p.m. a 7:30 p.m. en Osceola Heritage Park. Los padres y los estudiantes tendrán la oportunidad de tener conversaciones personalizadas con los administradores de las escuelas y los estudiantes, aprender acerca de las diferentes trayectorias educativas y grupos de carreras profesionales, participar en actividades prácticas en los puestos de las escuelas y en mesas interactivas, y disfrutar de actuaciones de los estudiantes y exposiciones de arte. El período de solicitud comienza en la Feria de Selección Educativa a las 5:00 p.m. por lo que las familias podrán solicitar su ingreso a la escuela de su elección en la feria. Se establecerá en el lugar un laboratorio de computadoras para ayudar con el proceso de solicitud.
Si usted planea asistir, le exhortamos a visitar www.myosceolachoice.school antes de llegar. Este sitio web le permitirá realizar un cuestionario para encontrar las escuelas que coincidan con sus intereses y puede ayudarlo a tomar una decisión sobre las escuelas que visitará en la feria.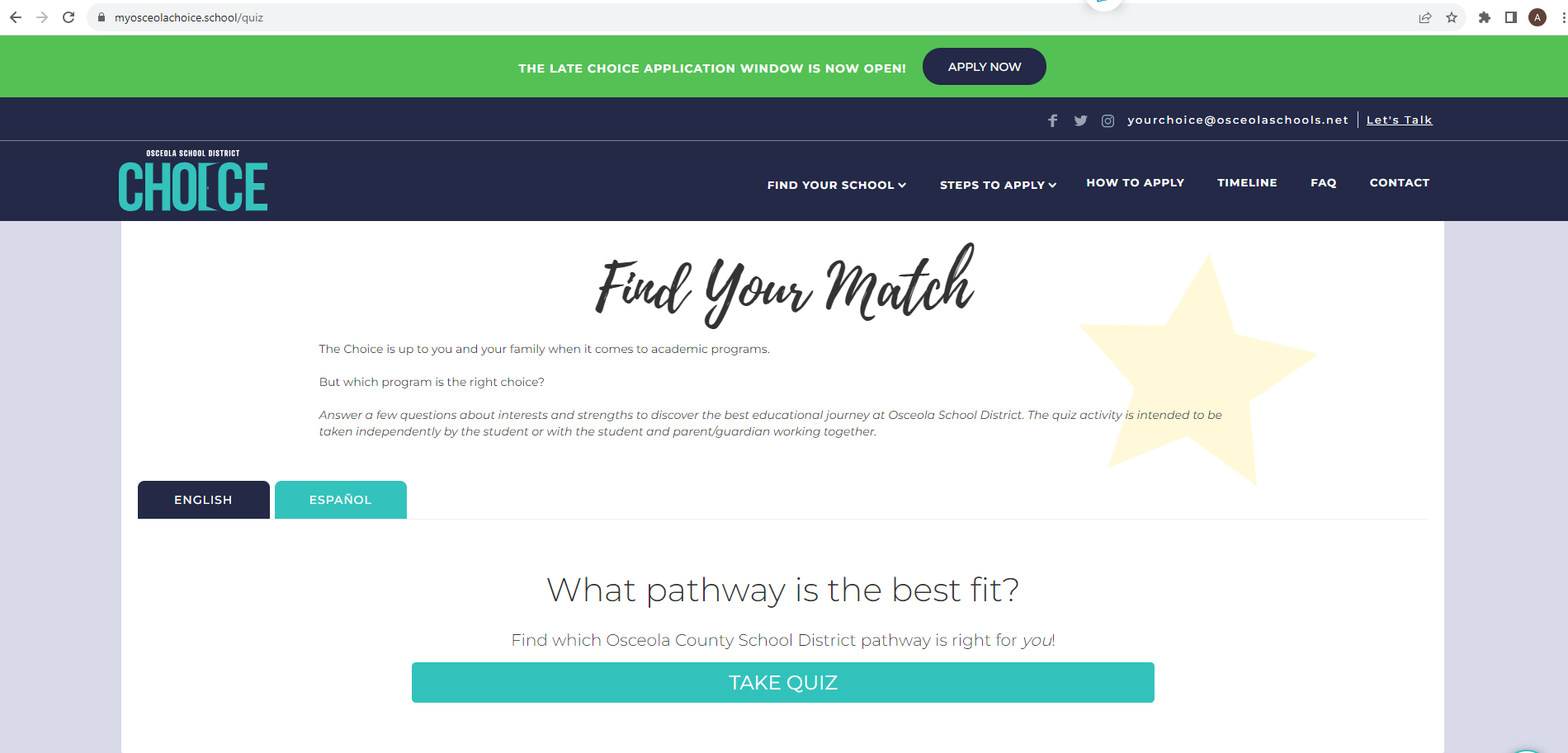 Este sitio integral será su ventanilla única para todo lo relacionado con el programa de selección educativa (Choice). Podrá leer sobre las ofertas de cada una de nuestras escuelas, ver una página de preguntas frecuentes y, una vez comience el período de solicitud, podrá solicitar directamente en este sitio web.
Si usted tiene un estudiante que está pensando en solicitar Choice, hay algunas fechas clave que debe tener en cuenta:
- Período de solicitud Choice - 16 de noviembre de 2023 al 26 de enero de 2024
- Envío de cartas de notificación Choice - 15 de febrero de 2024
- Aceptación o rechazo del puesto solicitado a través de Choice – 1ro de marzo de 2024
Puede encontrar información adicional en www.osceolaschools.net/choice. Si tiene alguna pregunta, puede enviar un correo electrónico al departamento a yourchoice@osceolaschools.net o llamar al 407-870-4847.